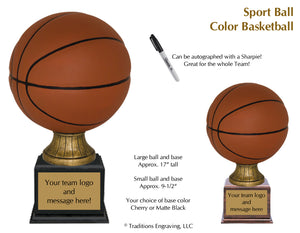 This is the perfect award for that Championship Team, League MVP or if you choose to recognize a coach or player! The price reflected includes the wooden base.

• Two sizes available
• High quality resin award
• Variety of bases can be used with engraved plate(s)
• Basketball can be autographed with a Sharpie

Large basketball diameter is approximately 9-1/4"
Overall Height: approximately 17" (depending on base)

Small basketball diameter is approximately 4"
Overall Height: approximately 9-1/2" (depending on base)

Engraving is FREE!
Your message or names can be engraved on the plate attached to the base.

Do You Have Questions?
If you have questions or need additional information regarding this product, simply contact us through our online form, and we will respond quickly.

CLICK HERE to request additional information.