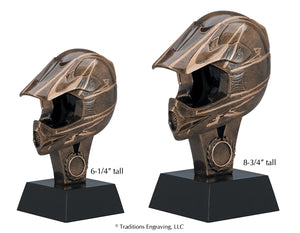 Motocross premium resin racing helmets are individually hand painted and are available in two sizes. These detailed awards are an impressive way to acknowledge riders participating in motocross events! The antique gold and black finish look great on black resin bases. These awards also include a 2" diameter area that can be customized with a full color metal imprint or engraved disc. Resin awards are a great alternative to a standard trophy! This award has the option to be mounted to a wooden base for a more robust appearance- contact us for more details.

• Two sizes available 6-1/4" and 8-3/4"
• Can be attached to a base
• Hand painted awards

Engraving is FREE!
Each award can have individual engraving on the plate at no extra cost!

Do You Have Questions?
If you have questions or need additional information regarding this product, simply contact us through our online form, and we will respond quickly.

CLICK HERE to request additional information.