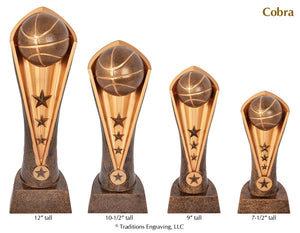 The Cobra Award has an impressive look with its resemblance to a powerful and agile snake. Three stars rise above the main star medallion. You provide the name and other information for the engraved plate that attaches to the base. Four sizes to choose from for your event!

• Individually packaged
• Four sizes available
• Back is rounded with the "hood"
• Weighted plastic award

Engraving is FREE!
Each award can have individual names at no extra cost!

Do You Have Questions?
If you have questions or need additional information regarding this product, simply contact us through our online form, and we will respond quickly.

CLICK HERE to request additional information.