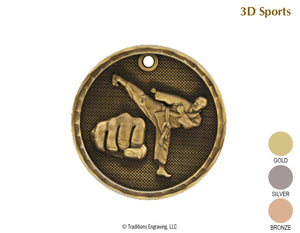 These 3D Medals present a high detail design. The 2 inch medals are available in 3 finishes of Antique Gold, Antique Silver, and Antique Bronze. We can personalize the reverse side of each medal with an event title, individual name, date of event, or brief message.

Neck ribbons, pin ribbon drapes or neck chains are sold separately.

CLICK HERE to review Neck Ribbons
CLICK HERE to review Pin Drapes
CLICK HERE to review Neck Chains

Engraving is FREE - we don't charge per word or character.

Do You Have Questions?
If you have questions or need additional information regarding this product, simply contact us through our online form, and we will respond quickly.

CLICK HERE to request additional information.