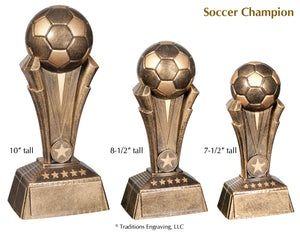 Available in 3 different sizes, the Soccer Champion resin award features a soccer ball atop a pedestal base with a representation of a star medal below. The award is in antique gold finish, individually boxed with a felt bottom.

• Individually boxed
• Self standing award
• Felt applied to base bottom

Engraving is FREE!
Each award can have individually names at no extra cost!

Do You Have Questions?
If you have questions or need additional information regarding this product, simply contact us through our online form, and we will respond quickly.

CLICK HERE to request additional information.